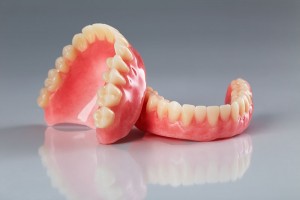 For our patients who have lost multiple teeth, we are pleased to provide dentures and partial dentures at our office. Dentures are oral appliances, composed of prosthetic (artificial) teeth set into a gum-colored base, that restore your smile by replacing missing teeth. Complete dentures are used when all of the teeth in a full dental arch are missing. Partial dentures, on the other hand, are used when some natural teeth remain. Our dentists may suggest a complete or partial denture to:
Replace multiple missing teeth
Enhance the appearance of your smile
Restore the volume and shape of your face
Improve your ability to properly chew, speak, and eat
Dentures are custom made to fit your smile comfortably and aesthetically. Our dentists will also make certain that your dentures fit securely. If you would like to further enhance the stability of your dentures, we are pleased to offer implant-supported dentures, which means that the dentures are anchored to dental implants. This helps to reduce slipping during eating, speaking, and other activities.
We invite you to contact Pine Ridge Dental today to learn more about dentures in Lincoln, Nebraska, and to set up your next visit. We are eager to restore your smile!