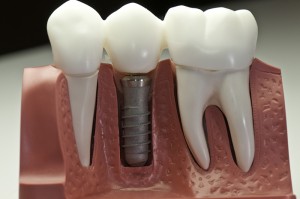 Dental implants are a long-lasting, natural-looking option for replacing missing teeth. Our dentists may recommend implants if you have lost one or more teeth and are searching for a stable, lifelike replacement solution. Dental implants are very versatile and can be used for:
Single tooth restoration
Multiple tooth restoration
Denture stabilization
There are two main steps in completing a dental implant: the placement and the restoration. We will review the details of your specific treatment plan with you during your meeting with our skilled dentists at Pine Ridge Dental. While we can often complete the entire treatment right in our office, we may work with another dental professional if needed to ensure optimal results.
Dental implants hold numerous benefits for your smile. They can greatly improve your ability to chew, eat, and speak as usual, and with proper care, they can last a lifetime. Implants also look very similar to your natural teeth, so your restored smile will look naturally beautiful. Whether you are missing one tooth, a few teeth, or all of your teeth, dental implants in Lincoln, Nebraska, might be the solution you need to restore your smile.
Please feel free to contact Pine Ridge Dental today to learn more and to schedule a consultation with our team.