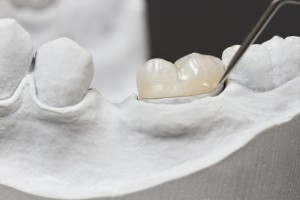 If your tooth has been damaged, our dentists may recommend a dental crown or onlay. These are dental restorations that can be used to repair teeth that have been damaged by decay, trauma, or other factors. Dental crowns and onlays are both used to repair teeth, but they are slightly different. A crown is designed to cover the entire tooth, starting at the gums, while an onlay replaces only the damaged portion of the tooth.
Crowns are very versatile and can be used for a number of restorative and cosmetic purposes. We may recommend a custom-made dental crown in Lincoln, Nebraska, to:
Anchor a dental bridge
Enhance the function and aesthetics of a misshapen tooth
Support a large filling
Cover a dental implant
Improve the appearance of a severely stained or darkened tooth
Protect a tooth after root canal therapy
Restore a decayed or damaged tooth
Strengthen a fractured or other weakened tooth
Our dentists will help you determine which type of restoration is best suited to your personal dental needs. Both crowns and onlays are custom made to precisely fit your smile, and in many cases, we can use CEREC® technology to complete your restoration in only one visit to Pine Ridge Dental.
We welcome you to contact us today to learn more!