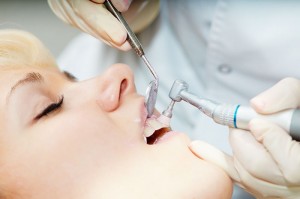 We recommend that you schedule a dental cleaning at our office at least once every six months. This appointment includes a professional teeth cleaning, a dental exam, and dental X-rays. Our skilled, gentle hygienist will remove plaque and tartar from your teeth. Then we will floss your teeth and polish them, and we may apply fluoride to children's teeth. Fluoride is a mineral that helps protect your teeth from decay by strengthening the tooth enamel. Our dentists will then examine all of your teeth for signs of decay, gum disease, and other dental issues. Sometimes, we will take dental X-rays as well to help us get a closer, more complete look at your smile. Each routine visit to our office also includes an oral cancer screening so we can make certain that you stay in optimal health.
If needed, our dentists may also recommend a deep cleaning (called scaling and root planing). This is a more thorough cleaning that can benefit your smile in several ways, including:
Preventing periodontal (gum) disease
Improving the health of your gum tissues
Preventing tooth loss
Eliminating the need for more invasive treatment
Controlling inflammation and infection
Based on your personal needs, our team will help you determine which type of dental cleaning in Lincoln, Nebraska, is right for your smile. Please contact Pine Ridge Dental today to learn more and to schedule your next visit.