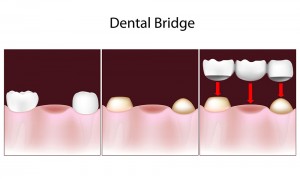 A dental bridge is a restoration that can be used to replace either a single missing tooth or a couple of teeth that are missing in a row. While there are several types of dental bridges available, the most common type is called a traditional bridge. This kind of restoration is made up of two dental crowns and a pontic, or artificial replacement tooth. The crowns hold the pontic in place in your smile to ensure that the bridge is stable and secure.
Bridges hold many benefits for your smile. Our dentists may recommend a dental bridge to improve your smile by:
Replacing one or more missing teeth
Restoring your ability to chew, eat, and speak as normal
Relieving uneven stress on the bite
Improving the volume and shape of your face
Enhancing the beauty of your smile
Preventing the remaining teeth from moving out of alignment
Replacing an unwanted removable partial denture
Each dental bridge in Lincoln, Nebraska, is custom made to fit your smile comfortably and aesthetically. During your individual consultation with our dentists, we will help you determine whether a bridge is the right choice for restoring your smile's beauty, health, and function after tooth loss.
To learn more and to set up your next appointment at Pine Ridge Dental, please call us today!